Testimonials
We love our customers. Every single day, we come to work in hopes of helping someone (new and repeat customers alike) make the most informed decision about purchasing a trailer. When they are able to say kind words about us, it makes everything we do worthwhile.
Please let us know how we can help you do the very same.
---
Mike made my trailer purchase easy and fast. Highly recommend this place!
Daniel Little
4-6-21
---
I worked with Mike Perlejewski to get a trailer for our dirt bikes. Mike did a great job. He was very helpful and easy to work with. Thanks Mike!
Blake Love
4-5-21
---
Mike was able to get me a trailer weeks before competitors. Built the way I want it. Very professional, and helpful. I was getting quotes for 25 week wait, Mike was able to get it in 7 weeks!
Jon Smith
4-5-21
---
The trailer I bought was perfect for my side by side. Mike knew it would fit inside and it did. Trailer is well made and the Echo electronic brake system was perfect for my truck. Money well spent. Sales process and pick up were smooth and quick. The whole staff knows their business. Strong recommendation for Mike and his team.
Chris Booth
4-5-21
---
I bought a 6.5x12 quality steel utility trailer from mike in 2019. I wanted to wait a couple years to see how the trailer held up before posting a review/testimonial so far it has been flawless, zero downtime. Mike was very helpful in providing specifications and finding a trailer that would accommodate my 60" mower with a vacuum bagging system attached. The 4' ramp provides a great loading/unloading angle. Mike is great at communicating and returning phone calls and emails. I will be purchasing my future trailers from American trailer mart and mike.
Adam Girard
3-26-21
---
As a first time customer, I couldn't be more satisfied. Customer service and prices get a two thumbs up. Thank you Scott, was a pleasure meeting you.
Duane Bosch
9-1-20
---
The prices are great and the sales staff are very friendly and knowledgeable. The salesman Jerry and service department staff were very helpful in the modification of my trailer needs.
A 5 star rating is well deserved.
Richard Birchfield
3-20-20
---
1st time buying a enclosed trailer ,Mike was very helpful and walked me through the Ins & outs of purchasing a trailer that would suit my needs.Everyone I met there was friendly and knowledgeable.Thanks for making this a good experience.
Tom Hennig
2-10-20
---
Mike did a good job and is why I bought from him again. Thank you.
Paul Phelps
11-4-19
---
Jerry was great and so was the Parts staff, getting me everything I need for my new trailer. Great job!! Thank you!!
Richard Noll
11-3-19
---
Great and easy transaction from sales/lot to office staff.
Thank you,
Mike Seacord
10-31-19
---
Just picked up my new dump trailer! This is the second dump trailer I own. This dump trailer is by far better built than my previous one. My sales person Jerry was excellent. If you're going to buy a dump trailer go see Jerry.
Corey Talcott
9-26-19
---
When I purchased my trailer from Trailer Mart it was refreshing to have a salesperson like Jon willing to take their time and answer any and all questions. After visiting other trailer sales facilities, I realized Trailer Mart is a few steps above the rest in respect to how they handle their customers.

Additionally, I experienced a tire issue on the trailer's maiden voyage. I brought the tire and wheel back to Trailer Mart to see what could be done with a non-repairable tire. Without hesitation Jon (salesperson) and Scott (parts department) brought out a replacement tire and wheel assembly to replace the damaged unit.

I was pleased to find out that Customer Service is still important to Trailer Mart and their staff.

Thanks,
Ken Harp
7-3-19
---
---
---
---
---
---
Greetings,

I wanted to take a moment and thank you for having such a great team at American Trailer Mart. Michael was amazing to work with on our music school trailer project. He had the most positive and helpful attitude, and all the answers! And if he didn't know an answer, he immediately struck out to find the person on your team that did. He went above and beyond in customer service. Something that will never be replaced with a website or online purchase.

Speaking of websites... Andy is doing a fantastic job in the marketing efforts. Everywhere I looked online for trailers locally, you guys came up... without him, I might not have found you. Also... as a musician, it is great that you have a musician on your team! (Did you know that about Andy?) Music people are creative... and think outside the box... and go above and beyond. Andy exemplifies that on your team as well. I was just a random dude sitting on a couch in your showroom, and he went out of his way to make me feel comfortable and at home. Scott in accessories was amazing as well. As was the (pardon me forgetting) shop/yard trailer tech that helps hook up trailers and trailer controls and such. Everyone expounded great positivity... which is what I want in a team I'm working with to put a project together.

Thanks so much for your help,
Jason Gittinger
Founder / Executive Producer
The Detroit School of Rock and Pop Music
6-24-19
---
---
---
---
I was looking for an enclosed trailer to store and transport tools, building materials, etc...

Jerry took quite a bit of time showing me different models, features, pros and cons of different manufacturers and all the specifics of each.

I felt I had plenty of information to make an educated choice about which trailer I was going to purchase. Once I selected my trailer we walked through the customization I required and gave them a delivery date that I needed it by.

They actually had it ready a day early.

Everything was exactly as discussed and priced. There were no sudden changes or surprises at the end.

This is how business should be conducted.

Thanks!!

Bill Sweet
5-30-19
---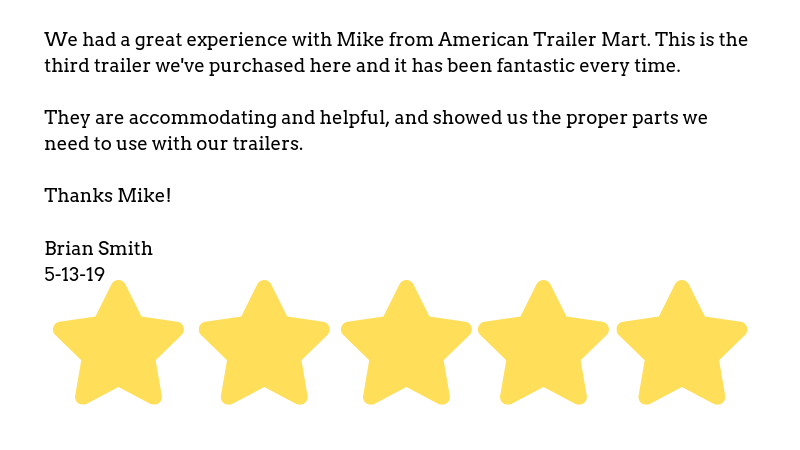 ---
---
---
---
---
---
---
---
---
---
---
---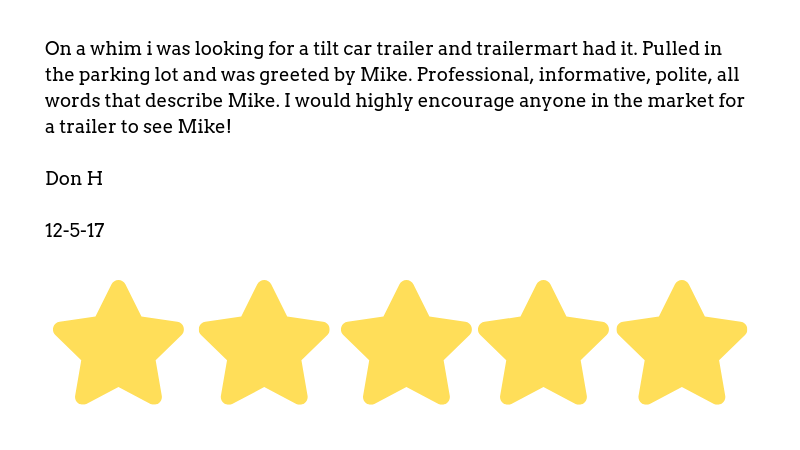 ---
---
---